Australia apparently has met its greenhouse targets, but that's not good enough for the Greens.
So I've done some digging to see what our performance on reducing emissions looks like, and it's no worse than most, and better than some.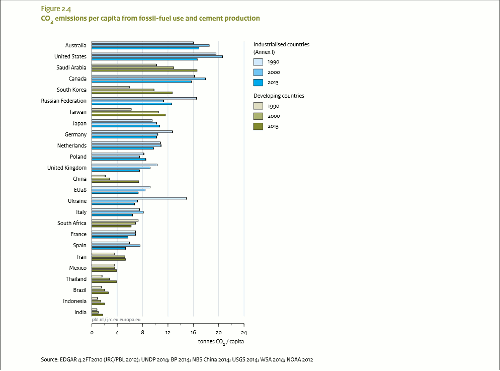 But pay special attention to the worst performing countries. They are South Korea, Taiwan, Japan, China, Brazil, India and Indonesia.
They have in common that they are all emerging economies (with the exception of Japan), and that they are the ones most likely to be manufacturing the stuff that we wear, watch and drive.
Now look at this graph of projected world emissions. You'll note that the whole is going up at a very fast rate, with only a hint of a pause after 2035.
The format of the graph makes it hard to read individual countries and sectors but while the EU and the US appear to be stable, and China promises to stabilise in 2035, the rest of the world continues to increase.
A good part of what is happening when developed countries reduce their emissions is that they are actually decreasing the emissions that occur in their country, not the emissions that occur as a result of their consumption
As a result, while developed country emissions go down, developing countries' (the countries where our consumer goods are manufactured) emissions go up and more or less compensate.
In other words, the whole emissions reduction talks are a charade where every country involved pretends that what they agree has a significant effect on world emissions, when they don't.
We are meeting our targets by redirecting our emissions to developing countries, but short of recessions, nothing of significance changes.
Which makes the case for either adaptation, or nuclear power, or both, compelling. We won't stop consuming, so we have to get realistic of the possible alternatives, assuming that CO2 emissions pose any serious risk at all.
Update
Here is another graph which makes the point pretty strongly. This is the change in energy mix predicted by the EIA in the US between 2011 and 2040. See how many differences you can spot. 😉 Adaptation is the only way.