I always thought that George Brandis was right – it is legal to be a bigot in this country – but Bill Shorten has corrected him, a correction which he tacitly seems to have accepted by abandoning his attempt to change section 18c of the Racial Discrimination Act.
According to Bill "…bigotry has no place in modern Australia."
So lets get going on cleaning up bigotry in this country.
I'm not sure what remedies Bill has in mind…maybe jail, or exile to a foreign country, or perhaps in this cyber age, complete isolation from social or any other media, could all achieve this aim.
Perhaps a re-education camp might suffice from which the offender could only be released once they had proven to a medical or psychiatric board that they had fully recovered.
This way we could eliminate either the person, or the thoughts, from "modern Australia".
I intend to draft legislation, which I'll ask Bill to introduce as a private member.
But to do this and to work out what penalties or treatments might apply, and indeed, what might constitute bigotry, we need to start dealing with some actual cases.
As my first case study I put forward Ms Catherine Deveny who tweets as @CatherineDeveny.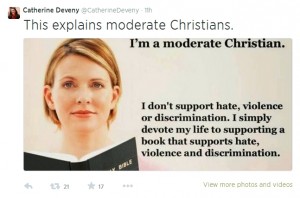 Catherine labels herself as a comedian, but it's hard to know who would laugh at a piece of religious vilification like this.
I'm not sure what Bill Shorten has in mind as a definition of bigotry, but it appears to have certain elements.
The opinion should be offensive
It should be unreasonably held
On these grounds there is no doubt Deveny is a bigot. I'm a practising Christian and I find it offensive. And it is offensive partly because it is untrue.
Anyone who reads the Bible would know that it comes in two parts; that the second part is superior to the first; and that it urges people to even lay down their lives, for others, and not just those they do like, but those they don't.
The New Testament doesn't support hate, violence or discrimination.
Parts of the Old Testament do, but so what? You read the Old Testament so as to understand the New.
No intelligent person could reasonably hold Deveny's view.
However, this is not just any old bigotry. It is what I will call "aggravated bigotry", because it is aimed at undermining people's belief in Christianity, and their acceptance of Christians.
So let's add another limb to define this more severe type of bigotry
The opinion is designed to lower the reputation of a person or group
I've only just started thinking about this issue, so I'm open to refinements on both my definitions and suggested remedies, so please read this as a tentative work.
But one thing is sure – if politicians are to deliver on this new bigot free world, there is a lot of work to be done, and it has just started.