It was an ABC report that alerted me to the fact that smoking rates in New York are now down around 15%, declining from 24% a few years ago.
This is far lower than Australia's which is around 18%.
The ABC report suggested a number of reasons for the decline, and they are presumably the same factors driving decline in Australia. They are price, and making it harder to smoke in public.
But which is more important?
When reports of New York deal with price, they cite the high price of a packet of 20 cigarettes at $12.
But the price of the same packet in Australia would be $20. The currency effects mean this is effectively a 50% higher price in Australia.
So, if price were the key, our smoking rates ought to be lower, but in fact they are higher.
The insignificance of price signals in the mix is also suggested when you realise that those who can afford to smoke the most are least likely to smoke at all.
You can see that pretty clearly in this graph of New South Wales smokers comparing the average with various disadvantaged groups.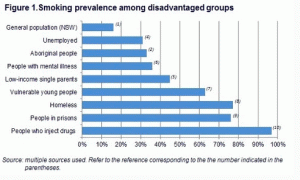 This points to convenience factors being the main driver, as well as the Australian government deriving a super profit from smokers in this country, well over and above any health benefits the government derives.
Good thing Joe Hockey didn't hit smokers up in this budget. They're one group who are more than paying their own way.