"If the 'end of the age of entitlement' has come, why does the mining industry get so much assistance?" is a question I've seen raised lately by activists. It's a curious question, because as the Productivity Commission shows, mining receives virtually no assistance at all, as you can see from the following graph and table from their Trade Assistance Review 2010-2011 demonstrates.
Perhaps the lack of assistance is part of the secret of mining's success.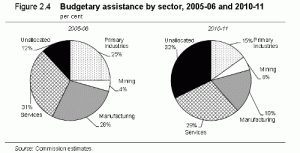 The first graph shows budgetary assistance by sector contrasting two periods. As the report notes:
The manufacturing and primary production sectors, which together contribute about 10 per cent of value added, received around one third of total estimated budgetary assistance in 2010-11, while the mining sector received relatively little measured assistance.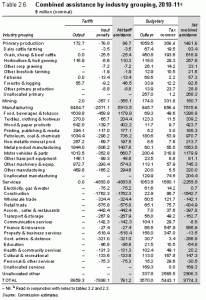 This table shows the net assistance by industry. If you click on it you can see that mining receives a net $150.7 m worth of assistance, while producing somewhere around 10% of GDP. Motor vehicle manufacture receives around 8 times that, but only produces a very small fraction of national wealth.
In fact, mining is penalised by the assistance given to other industries so that you could argue that virtually all the resistance that it receives is necessary to even-up the ledger.