Midsummer, raging bushfires and record breaking heatwaves. But at Moruya Heads it has been mild, not passing 30C. We could use some rain now, but the tanks are holding up and my experiment with growing Warragul Greens has succeeded on the second try: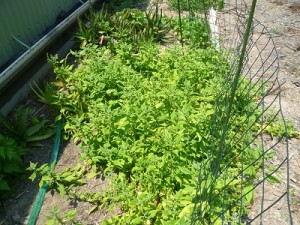 It is safe to assume these interesting greens do not need protection from the kangaroos, as they were taken from an area near a beach. What does need protecting is parsley, silver beet, mizuna, and my precious raspberries, which are now enclosed by an electric fence: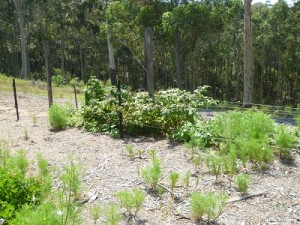 Not that I am getting many raspberries yet, but more than last year, and next year there will be more again. A very knowledgable permaculture and organic gardening local is working with me to establish good planning and planting. We came to the electric fence option after discarding the idea of me sitting there with a shotgun on my lap, as I would have to sit up all night waiting for the roos to arrive (and besides I don't have a shotgun). But now I think the better solution would be ex-CIA surplus drones, trained to spray them with capsicum. So far, only my poor puss seems to have encountered the live wire, but seems none the worse for it.
It is too hot today to do any gardening, and now that I have an app that tells me when high tide is, I go then for a swim at one of the prettiest beaches I can imagine: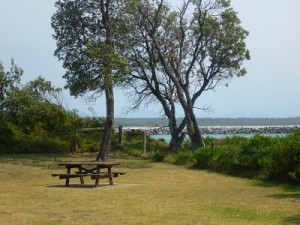 Is there anything more delightful than cool ocean water on the skin on a hot day? Then back to our 'shed' to sip tea, play table tennis with a visiting friend and read a book. The historical context of easy Islam and Christianity is laid out in fascinating detail in a book by Tom Holland: In the Shadow of the Sword. Violence elsewhere is the steady backdrop to my peaceful life here: ancient violence, endless violence against women (I'm never going to India again) and of course the horrible violence of stupid, uncaring, drunken louts (women not necessarily excluded from that lot).
Pulling together a submission from my Canberra peak oil group for the Government's Energy Issues White Paper also exercises my mind (but not much, as the paper is based on a riskfree future of endless growth, too easy to debunk). Still maddening to know that the people in charge, who claim to be pro-business, are unplugged from the realities of economic prudence.
My havens are the local people, the wide expanse of bush around me, and the tedious but very real pleasures of gardening. One step at a time, one salad at a time, lots of zucchinis, all at once.
No fires near here either, or another app would let me know, just for the checking. But the extreme weather elsewhere is no laughing matter. It saddens me that there is still so much denial of the dangers of climate change, but that won't stop me from developing as much water storage and food production potential as I can. Already I am planning for beyond my life span, a humble way of attempting to adapt and leaving a decent, if not fully sustainable, footprint.
There is no way I will stop travelling once a year, at least while my mother is alive. Carrying a bit of the inspiring bits of civilisation in my heart is good for inspiration and motivation. But we all have our weaknesses, and looking at the world's great art is one of mine.
This year has been marred by illness, not mine, but of dearly treasured friends. So much that cannot be influenced, or changed. Almost time to get ready for the Corn Harvest Fiesta in town tonight, another humble pleasure. And more visitors, here I let an old friend wear the silk robe I picked up at Vinnies in town for $20 (new! tag still on it!) while she completes her crossword puzzle: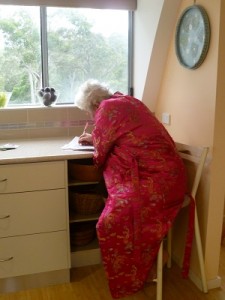 Enjoyment of simple treats and friendships, and keeping the kangaroos at bay. Ingredients for a fine season, the rest of the world can wait. If I get enough takers, I'll be running a seminar style course in climate change this term. Wish some of you deniers could join in, as morning tea will be served along with lively discussion of the research….