Immediately after last night's debate I scored it a draw. Rudd was more fluent and less reliable, Abbott more wooden, but more "fair dinkum".
Others scored it a win to Abbott, including even the SMH online poll.
But it could have been a narrow victory to Rudd, and still be a loss.
This was the debate that Rudd claimed Abbott was running away from.
Rudd might have cast himself as the wimp, but there is no doubt he wanted the debate because he sees himself as anything but and thought he could best Abbott by a significant margin.
If this is Rudd's strong suit he might as well throw all his cards away now.
I thought Abbott's body language was better. His stance was more open, and the chiselled jaw made him look more determined. However, I've seen tweets of photos of his handshake with Rudd after the debate that make him look aggressive, a la Mark Latham in 2004, with the tagline "Rudd is smug but Abbott's all thug".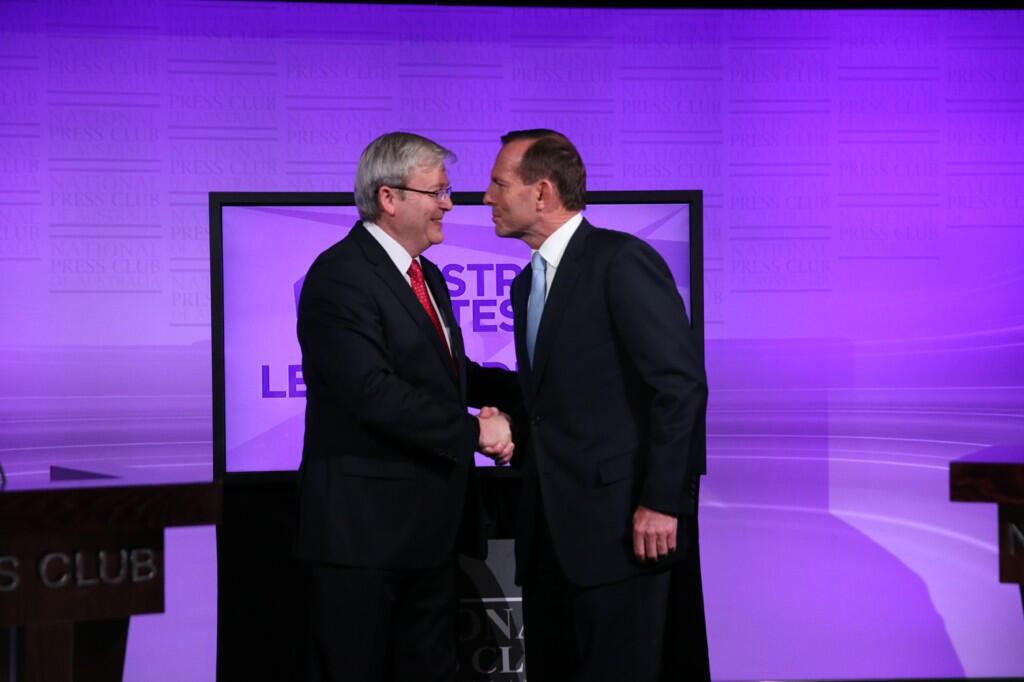 The shot's not what it appears. Abbott seems to have a bad back and walks slightly tilted forward from the pelvis (those of us who also have bad backs know the stance). He's probably feeling it even more than usual after his 14 km run yesterday morning.
What this image doesn't catch is that it was Abbott that went across to shake hands with Rudd after the debate, and Abbott who actually spoke to his opponent during the debate.
All of this underlines that, while wooden, Abbott was the more comfortable with the forum which was supposed to be all Rudd's own.
No doubt Abbott's woodenness was partly due to a wish not to appear too aggressive.
Rudd's Brer Rabbit ("I'm the kid in the library with glasses") pitch to Abbott ("you're the Oxford Boxing blue") was transparently "please don't hit me", and it would have been potentially disastrous for Abbott if he had.
So that's another loss for Rudd, twitter images notwithstanding.
There is a lot of doubt in the mind of the public about Abbott, and he'll probably look like he's on Mogadon until the day after the election.
Discipline is what Australians want and need at the moment, and that's what Abbott showed and projected in the debate. Discipline is what has been sorely lacking for the last 6 years.
He was lacking in vision, but Australia's had 6 years of visions that have turned-out to be delusions, and again it was a handy contrast.
So it wasn't anything Abbott said that won him the night, but what the context underlined about the past 6 years of Labor governments.
Rudd appears to be a confidence player. In 2007 he declared he would "play with John Howard's mind".
It appears to be his own mind that he's playing with now, and I'd expect his performance to deteriorate further over the next 4 weeks.