It's a cheap ad, with low production values, but this doesn't mean it won't do damage to Campbell Newman.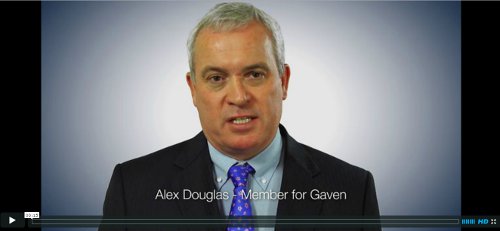 700 of these ads are supposed to air before Christmas, and they are being partially financed by Clive Palmer.
What is the point? I'm not sure. The ads don't have a call to action and merely state that Campbell Newman's claim Douglas asked to be removed as Chair of the Parliamentary Ethics Committee was "untrue", followed by an allegation that he was sacked because he was "dealing with matters that government did not like".
Sources have told me a number of things that might help to make more sense of this.
Before the last election Alex Douglas was apparently convinced that Campbell Newman would not win Ashgrove and that he, Douglas, would end up being premier of Queensland. That's potential motivation for Douglas, but doesn't explain why you would give him funds for the ads.
There is strong antagonism between Jeff Seeney and Clive Palmer to the extent that it is suggested that while Seeney is Deputy-Premier no project of Palmer's that requires government approval will get up. That is potential motivation for Palmer.
So perhaps the game plan is to destabilise the government to the extent where enough defect to leave the LNP in opposition. That might happen in a Bond movie, but surely not the Queensland Parliament.
But maybe talk of a new party is a blind. Could the real game be to cause enough havoc that the backbench and some of the ministry decides they need a change of leadership and drop Campbell Newman and Jeff Seeney?
If that happened who would replace them? There isn't a lot of leadership potential in the LNP, which is how Newman became leader in the first place. Front runner would be Tim Nicholls, but I'm told he's viewed as too close to Santoro, who is widely distrusted.
That really only leaves Laurence Springborg, the LNP leader who was unlucky not to win the 2009 state election. He's performing well in his portfolio, so it wouldn't be out of the question, although I've seen nothing to suggest he is actively seeking to lead the party.
If nothing else these ads could give Campbell Newman and Jeff Seeney something to ponder over Christmas.