I not infrequently drive down Moggill Road in the mornings, and since October or so last year I've been intrigued by this roadside shrine. It's like many that have sprung up around Queensland on the sites of road accidents, but more substantial than any others that I have seen. Earlier this week I took a closer look.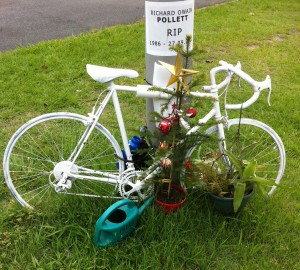 Is there any other major city in the world where this would have survived for over three months when a pair of bolt cutters could have scored you a newish road bike? To that you can now add a new Christmas tree, and the watering can next to it carrying the message "Please water".
Councils hate these shrines but I like them. They are a reminder that roads are dangerous, and that the victims of road accidents are loved by someone, and when they die they leave a hole in someone else's life. So drive carefully and watchfully – the next one could be for you.
They are also a reminder that people care, and that while graves have become unfashionable survivors still need a memorial to those they loved which is more than a patch of earth where some ashes are scattered or a Facebook page.
By memorialising this particular accident here on the blog, perhaps I am helping someone to deal with their grief over the loss of Richard Owen Pollett.
And I think that grief must be substantial.
The reason I pulled over for a close look on Tuesday is that while these roadside shrines are memorials that generally consist of a cross and some flowers, this one is a cenotaph – a relative of the monuments to fallen soldiers that often brood over intersections in the middle of country towns (or back up Moggill Road outside the Kenmore Shopping Village).
Richard Pollett must have been a special kind of guy – and Google confirms this. At 25 years of age he was a gifted violinist, in town to play the premier performance of Selenite, a concerto for piano and violin, with the Queensland Symphony Orchestra. The concert went ahead, but instead of Selenite, featured a new work dedicated to Pollett and composed by noted Australian composer Elena Kats-Chernin.
You can listen to him perform on YouTube, and the violin certainly makes a kind of magic in his hands.
His parents have established the Richard Pollett Memorial Award with the Australian Youth Orchestra to honour his memory and to provide support and encouragement to young violinists.
Local Member Bruce Flegg is using his death as another leverage point to campaign for an upgrade to Moggill Road, perhaps the most durable monument to Pollett there could be.
The Pollett family and friends have set-up a memorial page which carries the information that the bicycle memorial was set-up by staff of Kenmore Cycles, and a link to a page where you can donate to the Richard Pollett Memorial Award.
Let's hope that the staff of Kenmore Cycle can maintain this memorial for some time yet. While his playing may not have touched as many people as it should have, perhaps his death can touch more lives than it should need to on the sometimes fatal reaches of Moggill Road.