What makes for those blisteringly hot Australian days isn't so much climate change as geography. Sunlight that falls on trees and grass tends to be absorbed and used by plants and doesn't heat the air nearly as much as sunlight that falls on desert.
So when we get an extremely hot summer's day in Brisbane it's because the westerly or north westerly wind is blowing in from the hot centre. In Victoria it's the northerly summer winds that bring bushfires and 40 plus degree days just when they are playing the Australian Open tennis.
But we've had a lot of rain lately which means that more of the desert is covered in plants, which should make them less hot, and there is soil moisture to evaporate, which should also have a cooling effect. There is also more cloud in the sky which means more solar energy is reflected before it even reaches the earth.
So much for theory, what happens in reality?
The graph below is from the BOM average rainfall and temperature anomaly data. I've averaged them over 5 years to cut out some of the noise, and I've also multiplied the rainfall anomaly by 100 so that it plots better against the rainfall data.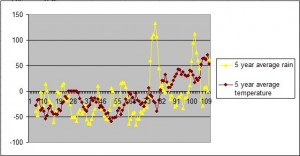 The theory appears to hold true with declines in temperature neatly matching increases in rainfall.
Other things that I noticed are that it has been much wetter since the 70s, than it was before, and that rainfall has increased in general at the same time that temperature has.
This graph suggests that rising temperatures may have been good for agriculture if there is a causal relationship between the temperature and the rainfall. It also suggests that we may be over-estimating the ability of our river systems to support irrigation if we judge them on the last 50 or so years of flow.
In any event, my forecast for temperature this year is that it will be significantly below where it was in the preceding years.