Our travels are well behind us, and the busy and troubled world of Europe seems to far away, even though the news reminds us of it daily. Here on the southern NSW coast life and the weather have a different flow.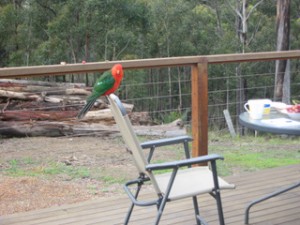 There is time to watch the kangaroos feeding with their joeys off the deck, and to spot a baby echidna. Milly, a truly muddle headed wombat, has been sent to a wombat resort and rehab in the Araluen Valley. Our former tenants were glad when she returned, bigger and so heavy, but still wanting to snuggle. Her shovel-like paws quickly defeated our attempt to confine her to a shed until they arrived to whisk her away. In a few minutes she had burrowed her way out again.
Men with machines are the order of the day here. Busy-ness comes a calling, and development has demands. We returned to find the dam cleaned up and full of water, a sight I'd longed for since we bought the property: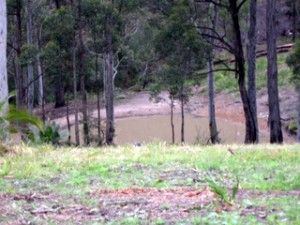 But the dam is far away, another problem to solve. Having a garden plan on a big sheet of paper is one thing. Locating and bringing in soil and arranging for water for plants is quite another. While there was lots of rain in the spring, extra could be collected off the back porch, sufficient to keep me going for a few days, as hauling tank water from the one tap around the back is not fun.
Here you can see the purple plastic tub, along with the pink tape that marks where some cement and tiles might create a sense of arrival off the back end of the shed. A closet for the Wellingtons and outdoor gear will be built to fit unobtrusively under the curve of the shed, and a bench on a pad to the left. One of my better inspirations: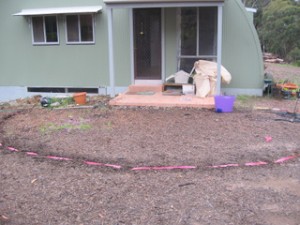 For months, my little plants remained trapped in pots, only placed in soil last week: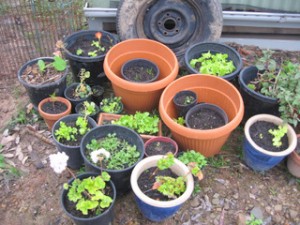 I've joined a local community garden that has a commercial orientation. They grow heaps, share skills and run workshops, and it seems very well run. The Saturday Moruya markets are also a treat, with lots of local veggies, fruit, jams and bread, along with the usual craft items. It feels good, and the people are friendly.
Then there is the Council, considered by many to be a thorn in the side of those who want to develop land or business. No one is more supportive of environmental preservation than myself, but accommodating sensible plans shouldn't be so hard.
To subdivide our block we are going through endless development applications, consultant reports, and now an architect. If the long, drawn out process of the new Local Environment Plan comes to a close as expected, we might not be able to put an extra house on our biggest 10 acre block. The Council staff dismissed my proposal for a small eco-village, but at least an extra house should be possible.
For the first time, after so much renovating in Canberra and here, we are working with an architect. Good fun, and it gives purpose to our plans here. Between all the organising, I'm getting better at table tennis, and I love walking at dawn, taking snippets of pelargoniums for my eventual garden. Ducking through the fence where the new drive will be cuts 5 minutes off the walk to the beach.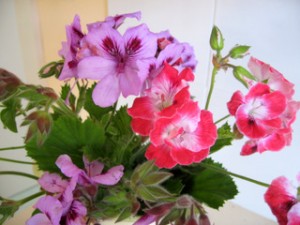 Getting all the ducks in a row to build a house is almost like work, and rewarding, mostly because it gives me more opportunities to design spaces. And by and large, they have worked out well, like this grand 'shed', that is so easy and pleasant to live in, and good when we have guests.
Is it sad or marvellous to think of plants as friends? Either way, many people think like I do, and the 'magic pudding' dimension of cut and come again is such an affirmation of nature's bounty. Some plants have travelled with me from house to house. What could be nicer than leaving a trail of raspberries?  Too bad for the weeds; I relish tearing them out by the roots, even though they are inoffensive and often interestingly different from those in Canberra.
As I attack them with my little spade, I can imagine them saying what Colonel Gaddafi said when they found him hiding in a drain: 'What have I done to you?'
I am no more merciful than those soldiers were. Nor were the Italians when they ousted Berlusconi. surely he should have been weeded out at the last election.
But I liberate plants, too, like this old pal that had been trapped too long in a pot. I am after some chain-of-hearts that vaguely remind me of decadent times long ago in Sydney, but til then this related tangled fine vine will do, growing up a yet to be installed trellis: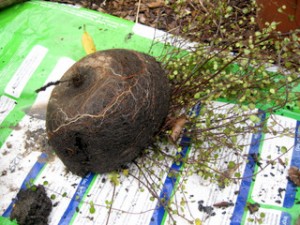 Such are the musings under the Moruya moon. Comfortable and relaxed it may be, but I have already started to look for groups that will let me speak to them about climate change. Lady Bla Bla is armed with a new presentation from the climate congress a few weekends ago in Melbourne. Time to talk about resilience, food security, adaptation. Al Gore now only refers to it as 'the climate crisis', and perhaps the citizens of Bangkok would agree.
Does anyone doubt that floods are a powerful harbinger of climate change? There is so little time before we all agree.