Here's another hockey stick graph. Interesting to compare it to the Michael Mann Hockey Stick that Al Gore used so effectively.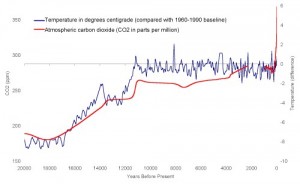 Gore's Hockey Stick uses just the last five percent of this gr aph and makes you think that the temperature is about to explode. This graph shows some quite different things.
First, CO2 goes up more or less in lock-step with temperature for most of the graph, but generally lagging the temperature increases. It is only at the end that CO2 goes up without an increase in temperature.
This suggests that something is driving CO2 concentrations now other than what drove it before. I'm happy to accept that this "something" is man-made emissions.
However, while CO2 emissions climb significantly in the last few decades temperature does not follow suit and correlation appears to be broken.
There is another correlation that doesn't appear to hold too well either. The warming effect of CO2 is logarithmic so if it is causing the warming it shouldn't be tracking in lock-step with it, as it does for almost the entire 20,000 years. It should be increasing faster than the temperature.
Why isn't it?
One reason could be that the CO2 increase is driven by outgassing from the oceans. As the oceans warm gasses are less soluble and they go out of solution into the atmosphere. This is a linear relationship which could be consistent with this graph.
This is certainly a graph that makes you think twice about the assumptions underlying the catastrophic AGW hypothesis.