Reader John Robertson has provided me with this intriquing insight into the Garnaut report and sea level rise. It makes you wonder.
"In its May 2011 report the 'Climate Commission' put the danger of 'sea level rise', allegedly caused by extra CO2, front and centre. It included a map which showed that 'sea level rise' was 1.3 – 1.8 mm/year on Australia's east coast and 7.9 – 8.1 mm/year on the west. The latter figure was used to support a predicted a sea level rise of 0.5 – 1 metre by the end of the century. The Commission did not ask itself how our single liquid ocean manages to rise continuously 5 times further and faster on one coast than on the other.
Of course, it is doing no such thing. Western Australia is moving vertically downwards relative to the earth as a whole and is sinking compared to the land on the east and to the ocean at large. The descent of the west relative to the globe is the vertical counterpart of Australia's horizontal motion across the surface of the earth at 70 mm/year to the north east (70 km per million years).
A comparison might be with the stern of a ship squatting downwards as it moves horizontally in the water. Western Australia is sinking very slowly into the earth's viscous magma. The sea remains at its same level. In many other parts of the world land is rising relative to the earth's centre and to sea level. The net result is a slight gain in land area across the globe as a whole.
The sinking in WA is real but the cause is tectonics (which gives us continental drift and earthquakes) not carbon dioxide. Australia will have to cope with this subsidence in due course. Fiddling with CO2 levels now or later will avail nothing.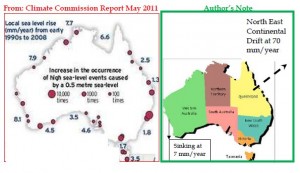 "