It has been a long and busy summer under the Moruya moon.The activities in and around our 'shed' have been a leisurely contrast  to the wild world beyond our coastal haven.
While watching in horror the floods, fires, uprisings and nuclear disasters we take refuge in more positive, if very modest, developments. The more scary the world becomes, the more I take refuge in glitter paintings and craftwork.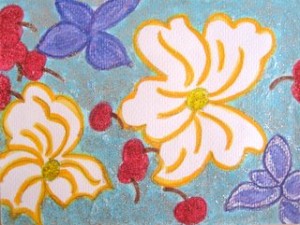 Our summer has included getting plans for a driveway to the new block, setting up a garden designer to work with us, and commissioning a neat  pre-fab studio, which has now been delivered with a crane. We have found the composting toilets work fine, but the exposed eastern sides of the house will need metal awnings to keep the driving rain out. And our rain collection needs a serious re-think to better filter the water. I am getting better at ping-pong, to my partner's chagrin, and I've had a couple of swim lessons, as the breathing has been a hurdle.
Sadly, some carbon de-sequestration has also occurred, as big trees had to be sacrificed for our Asset Protection Zone. Big winds in the spring and an arborist's report revealed some vulnerabilities, and stories of a healthy looking tree falling on a house was enough to convince me.
Now there is a pile of logs, some of which will be milled on site to provide slabs for retaining walls, rustic furniture, or walking pads, as well as firewood.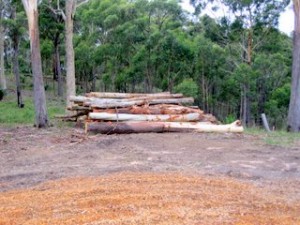 Also done on the spot, a lot of mulching which then had to be spread around. This will help keep weeds and dust down until we are ready to start planting in the spring. Meanwhile, the bricks that mark the driveway had to be put back, and a proper distance established to the new studio, below.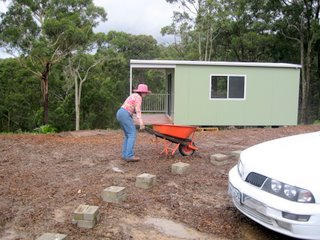 We now have the open palette on which to create a permaculture compound, where outbuildings will be linked  by kiwi-covered trellises and those  old tin water tanks will be cut through the middle to make raised veggie beds.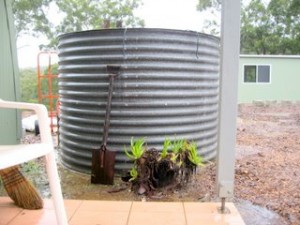 People are friendly and helpful – a neighbor we bought a $20 raised bed frame from for storage came  back to help us put it together. Lots of locals know about the history of our shed, from when it was set up in town as a Nissan hut during WW2, or knew the couple who used it here for a goat-shearing shed.
I've learned to identify several types of gum  tree, and also tested myself by killing a small black snake that was under some tin I'd foolishly left on the ground. Since I am sometimes here alone, I needed to know if I had the guts to do it. I did, but then found out that black snakes are the less aggressive ones, and that they keep the less civil brown snakes away.
Making the area around the shed unfriendly to snakes is another lesson, as well as learning that big buck kangaroos, like the one in our valley, are best left alone. The females graze close by our shed, but when I see him rise up to his full height, like King Kong, a certain respect tells me to keep my distance.
But some of the wildlife is cuddlier, like the baby wombat our tenants rescued. She is soon to be taken for wombat re-settlement, but meantime has given our visitors a rare experience. The visiting amateur naturalist in this picture wondered aloud why it is illegal to keep them as pets, as it seems quite content and friendly. But would it be cruelty to keep it in a domestic setting?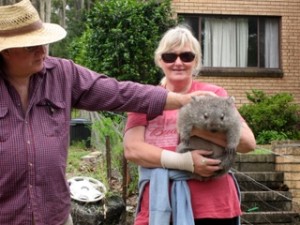 Amid all this activity, and lots of ocean bathing, it also seemed natural to join a few local groups. A sustainable gardening group and (even more natural) a group trying to improve the governance of the Eurobodalla Shire. It is hard to find anyone who doesn't hold the Council in disdain. Large executive salaries combined with foolish anti-small business decisions and cutbacks to essential services: does any of this sound familiar? So old Mrs Sticky Beak is learning about that important dimension to life Under the Moruya Moon also. The south coast of NSW is so beautiful and so pleasant,  with so many good people, surely good governance is also achievable.
But like the herbs I have planted and now leave, these seeds of action will have to wait. We head off next week, for places exotic and for a long time. The baroque architecture of Mexico City awaits us, and a little trip to Cuba. We're going to see where Trotsky got it with an ice pick. Serious gardening and community affairs will have to wait, while I dress up in my finest plaid for travelling. There will be more photos…