If you want to know why miners are upset look at this table. According to Citi, Australia's miners will be the most highly taxed in the world if the government implements its resource rental tax.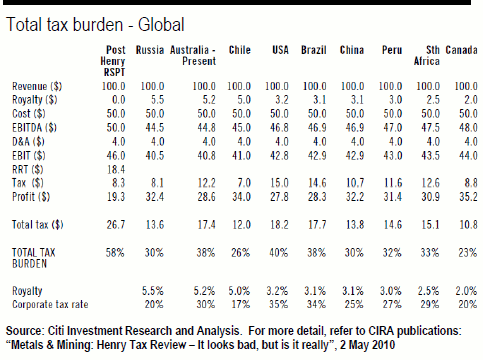 Under this regime Australia's miners would be taxed at a rate 45% higher than their nearest competitor, which is the USA and more than twice the rate of their cheapest competitors in Canada. Even, the current rate, which is competitive, is at the high end of what is charged by our competitors.
I've been looking around the 'net this morning and there are some sophisticated, but ultimately wrong-headed, attempts to justify a resources rent tax. James Farrell's is probably the most convoluted, and Marxist John Passant's the most honest.
What the table quite clearly shows is that in a world where capital is global, investing in Australian mining is dramatically, not marginally, less attractive today than it was yesterday, and that will mean fewer mines in the future, fewer miners, less jobs, and less national income than we would have otherwise received. This is where the PM likes to fight his battles, because the future notoriously won't get to vote until long after he has left office.
The government justifies its decision on the basis of some concept it calls "super profits". Apparently any profit that yields more than bank interest rates is a "super profit", according to the Prime Minister. The idea of a "super profit" is absurd. For a start it neglects that fact that large mining companies make their income from a portfolio of investments – some pay off handsomely and others are huge duds. And the financiers who support the smaller speculative miners also spread their risks around, sharing them between high-risk/high-reward one-mine speccies. "Super profits" are necessary to cope with the losses from "super duds". Overall, the return on assets invested in mining is less than that in many other industries, suggesting nothing "super" is happening here at all.
In fact, no-one goes into business or invests to make anything other than what the PM would call a "super profit", and that includes the superannuation funds that the PM believes are going to sustain Australians in their old age. Next time he lies his head on the prime ministerial pillow next to his wife's he should ask her just what return they get on their assets. As her wealth is somewhere around the $100m mark you can be sure he earns a "super super profit". But while profits in business can be good, they can also be not-so-good, because with higher profits comes higher risks, a point which the PM is now demonstrating. 
If you think this move is a good one – think again. The whole country depends for its wealth on "super profits". Today the government might be targetting the "super profits" of remote mining companies, many of whom it characterises with Hansonite candour as "foreign-owned multinationals", but tomorrow when that income has declined because it was taxed too much, it could well be the "super profit" that pays the wages in your business, or puts the return into your superannuation fund.
The lessons we learnt in the 70s were that taxation is a good thing, but it needs to be fair and it needs to be internationally competitive. It took us 32 years of reform by Liberal and Labor to recover from the last episodes of financial buccaneering, and the world we live in now is incomparably fairer, richer and more exciting as a result. Let's not waste that education.