So it's John Howard's fault that Labor can't balance the budget, because he was running a structural deficit? Well that's not what the government's figures, as submitted to the IMF say.
As the graph below shows, since 1980 it has only been during the Howard years that Australia ran a structural surplus at all. And as the graph also shows, the descent after he left office was precipitous. (Thanks to poster Rhian who drew my attention to this on the OLO Forum. The raw stats can be downloaded from here.)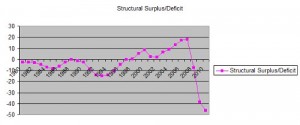 This graph is important because these figures were provided to the IMF long before anyone thought to argue that the structural deficit was the problem. Unfortunately, the argument being run by the official government organs of economic management at the moment is tainted by politics. They have been incompetent and are seeking to cover that incompetence up. Their own figures give the lie to their current position.
No doubt someone will comment on this post that the steep decline was due to the GFC, But if the GFC monies were just once-offs, then why is the IMF registering them as ongoing commitments?
One should also note that this graph disproves the assertion that inheriting a structural deficit condemns one to perpetuate one. Before Howard Australia was in structural deficit, but that didn't stop him from fixing the situation entirely.
I should also note that Howard has two bites at this graph. He was treasurer in the first part, up to 1983.
The difference in performance between the earlier period, when he was treasurer, and the later, when he was prime minister probably demonstrates three things:
Prime Ministers make a much larger impact on the economy than treasurers
Old dogs do learn new tricks, and as PM he applied what he had learned
You can't just shrug off the circumstances you inherit
While Kevin Rudd inherited a fantastic fiscal position Howard didn't – his position had been poisoned by Gough Whitlam.
Which is similar to the position that Tony Abbott will find himself in, inheriting the mess that Rudd/Gillard Labor has left.
It might take a long time before the graph rises above zero again, despite the best efforts of all.