Another year slides by, perhaps teaching me patience. A few steps forward, along with slow progress towards distant goals. Like the landscaping. As I spend more time here, the people are what pull me. Along with the solitude are developing friendships that provide balance and a feeling of belonging. It sometimes feels like I am embedded, both observer and participant. That is a good methodology for learning, and lots of learning is seeping in, so I hope. One symbol of change is the view off the kitchen, which no longer has a spotted gum so close up: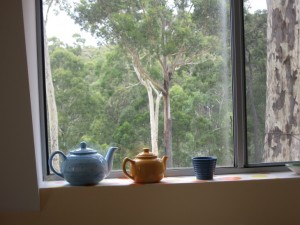 The view from the deck hasn't changed much, except that the big chair is now visible by the dam, an attraction for climbing: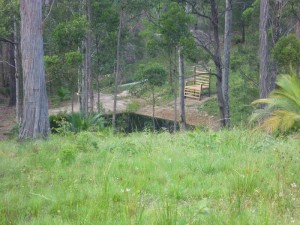 One of my 'bespoke' follies, it was done by a local guy who worked with me to get the proportions and structure right, and the placement. The timber was milled from trees (like the one in the picture off the kitchen) that were cut to keep us safe from wind and fire. Yesterday 3 teenage girls and their mothers enjoyed it with me. Creating that sort of fun has to gladden your heart.
The community gardening group is also very rewarding, and my picture appeared with the group in an edition of a green magazine about their efforts. Gardening guru Costa has visited, and the page we are all on is one of both pleasure and shared learning and values. How do you explain the quiet delight in having a surplus of grapefruit and lemon around the town, and a workshop on how to process the excess? So what if my attempts at a semi-commercial crop of corriander have come to naught? I am still getting enough every day to enhance every meal, baffled that some people find this herb unappealing. A shop in town was selling corriander seeds with my name on it, how cute is that?
We play table tennis daily, using Julian the Wikipuss as an occasional handicap. When I'm winning I do the ping-pong haka.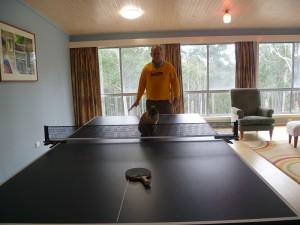 Another step forward has been the new kitchen, planned in my head for years and now a luxurious reality. It replaces one donated from a flat in Canberra and reassembled here 10 years ago. The tiling will have wait til spring, but the storage and use of space is a great success: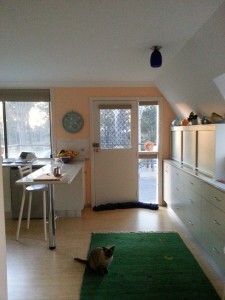 We have also continued to participate and learn as members of the local State Emergency Services, and my respect and admiration for this organisation continues to grow. Their skills and dedication for community benefit are impressive, and remind me of my minimal practical knowledge. I gave a brief climate change presentation, and hope to work with them on community education on my return.
For I am about to leave again, making up for travel not taken in my youth. Along with a history of Europe from 9000 BC to 1000 AD (by Barry Cunliffe), I have just finished reading a book by Australian author Peter Robb about Caravaggio. I will be chasing more of the paintings by the wild artist who broke through all the conventions of his time. His time was the counter-reformation, more violent and corrupt than we are now. The implication of the book is that Caravaggio, the most famous painter in Europe at the time, was hunted down and murdered for his sexual orientation.
I need that avenue into the past, as the present sometimes is distressing, if I look outside my own easy life. Moruya is a home for my idealism as well as my energies. How else can I deal with the bad news that is 'out there', but by having an 'in here' that is safe and comforting? Some disgusting reports of violence against women in Egypt and Pakistan (we won't talk about Australian politics just now) leave me feeling powerless, and my only response is a collage: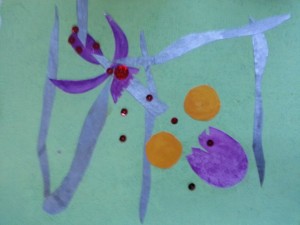 The name is 'woman torn by war', but I don't think anyone would tell their 7 year old daughter that.
When we return, there will be more building, road works and excavations, hopefully some serious planting, and the new water tank nearly full. I've got a lot of cuttings going, some of them will become bushes in the projected landscape patterns. Several more workers have instructions and tasks to get on with in my absence. Bit by bit I am progressing my agenda, which is something like an ecovillage by stealth, although I have fantasies of a cult. Maybe a cult headed by a woman is what the world needs. But first I have have to design the hats, can't have a cult without good hats.