Nearly a year has passed since my last message about this project on the NSW south coast, and surprisingly little has changed since then. We are up against the dual walls of cash and knowledge limits. If money were endless, we'd just take the insane quotes that sometimes are offered. If our skills were greater, we'd be more savvy in getting quotes in the first place.
I've learned, from the organic gardening course I did part of last year at the local TAFE, that you can manufacture soil. And you can store more water. Both are long term processes, and for now I have to be content with accessing (at long last) the 15 year old goat poo that has been preserved in the dryness under the house. I hope it is still capable of fertilising my patches around the house: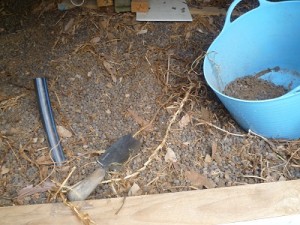 For me life and travel are all forms of research. It is a truism that everything takes longer than you think. Double that for landscaping on clay or influencing public opinion to wake the sleepers from their dream of endless consumerism and boundless energy. My dreams, too, assume access to lots of resources. Hard to keep my nose out of local politics, and I was pleased when last September a new brush swept into the local Council. Now the fun is underway, and it will take more than one round to bring greater accountability. I'm happy to be a background player, talking and contributing my bit to community activities. The local gardening group now has a Farmer's Market, and their pizza and film night last week attracted about 80 people. The sense of belonging reinforces the sense of contentment I feel here.
But I wasn't too content before the rains of the past few days, as it looked like the water for my veggies from the chook shed would soon run out. Unlike the unfortunate towns up north, we got an amount that seemed just right: enough to fill tanks and water plants, but no flooding. Farmers here might have even wanted more, but my little dams are overflowing.
Dreams of an edible landscape here are still a ways off. Being overseas for a good while slowed me down, but also reminded me how beautiful a lush countryside can be. Is anywhere more lovely than the French south coast? Seeing Venice and Rome again, and gorgeous Padua, even in the heat of July, planted joyful memories. I adore Europe, and spent some time chasing Caravaggio sites in Italy. Now, when weeding or peeling a carrot, flashes of those streetscapes enter my mind and make me smile. I'll keep going back as long as I am able, and keep coming back here to the beautiful south coast to continue my saga of sustainability. Long road ahead.
A new plant can be like a new friend. The previous tenant here gave me some of this Asian green, which I now have by the thousands. I feed some every day to the chooks which the new tenant keeps in our reclad (I tell people it's been renovated) chook shed. Now I know it is a Japanese mustardy green called Mizuna, and I eat some nearly every day: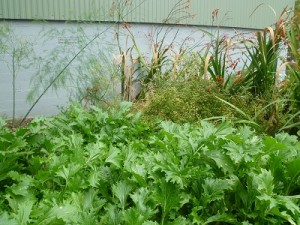 After a visitor explained them to me, I have become enamoured of French curves. These have changing radius, and are perfect for items such as our cement patios (all that embedded energy!) which are intended to complement the curves of the ridges and also of our converted Nissan hut. Rather than a uniform sector of a perfect circle, they trace out a graceful shape that fits the site. Someday we will tile them to pretty them up, but already they are useful, front and back, for bit of furniture and a solid level area. I would like to plant the slope around it with strawberries, but for now it has grass. The bush beyond is a constant reminder that our human intrusions are meagre and probably impermanent. The old lace curtains in this picture are one (of many) attempts to deny the wildlife a free lunch: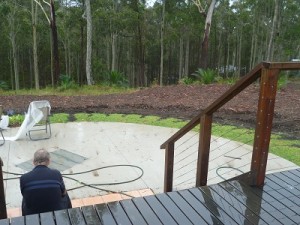 These peasant pleasures sit without contradiction in a knowledge that none of this can ever be taken for granted. All the data about climate change revises the predictions in one direction only: upwards. And my involvement with the peak oil group in Canberra informs me that shale oil and coal seam gas, fracking and tar sands are at best postponing the inevitable decline of liquid fossil fuel while intensifying climate change.
Meanwhile, having time to grow a few things and be part of this community is very satisfying. An ABC radio national program this morning was talking about the psychological impacts of climate change, and how children might be taught to 'fall in love with nature' as a way of helping to build positive attitudes towards the environment. From my days as a tree-climbing explorer of neighborhood woodlands, nature has been part of me. Pantheism always seemed more reasonable than men in fancy hats. And isn't a healthy plant almost as good as looking at a Caravaggio?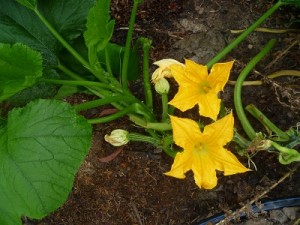 It was said that the painter Picasso would meet a woman, ravish her, and then paint her. I like to cultivate plants, photograph them, and then eat them.
One bit of progress last year was a planter box off the end of the deck. As a 'bespoke' item, it wasn't quite a success, as it had no bottom to hold the soil. After a bit of head-scratching and some reseach in hardware shops, we acquired a staple gun and lined it with mesh and then weed mat. Now it will be safe from the kangaroos and rabbits, but I have no idea whether the corriander seeds will work there. But it is balanced and pleasant to look at without being intrusive: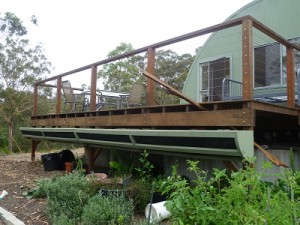 If the landscaping is still elusive, the infrastructure is progressing. We have solar panels now, along with solar hot water. The retailer discouraged us from getting a bigger system, because the electricity retailers are not obliged to pay more than about 7 cents per KWH for the energy we feed into the grid. However, they charge the full retail rate for our net drawdown. That does not seem to me to be an equitable arrangement or one that would contribute to diminishing our green house emissions, but perhaps that will change over time. So far I have been stymied when trying to find domestic wind energy options, but that will come in time too, I am sure. Since we sit on a ridge back from the ocean, the wind generally comes up at night. But I am told it wouldn't be sufficient to warrant the investment.
Our larger dam (just a visual element, not very big) has now been cleaned and strengthened, and our new garage will soon hold another water tank. Little steps, but progress. Now that the rain has cleared, I might drag the mattress out onto the daybed and have a cuppa. That bed, too, was revived and cut down from a garage sale purchase. The saga continues, time for a break.