What is the anthropocene?
That's the term Jim Cruzen coined to describe the tiny span in our plantet's history that has been shaped by human activity.  Scratching the soil, playing with fire, seeing if water can be moved or blocked, the stuff that led to civilisation.
This started long before recorded history, or the classic medieval period when castles like this one in Carcassonne were built: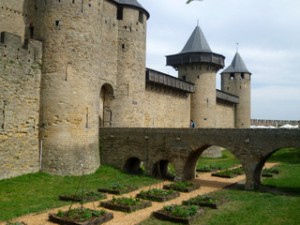 I prefer to think of it as the Mid-Evil, and our current epoch more correctly as the Late-Evil. About 800 years ago, they had only the most general idea of resource depletion. Today we know, and still we persist in the ponzi-scheme of unlimited growth, a planet without limits.
And we flatter ourselves that nation states and the modernised sector more or less invented and sustains democracy. The reality is that tiny places like la Rochelle in France had communes and elected their mayor many centuries ago.
Who were the Cathars?
The Museum of the Inquisition in Carcassonne reveals how religious dissent was handled in the 1100's. The Cathars can be seen as early reformers, anti-Papist and anti-corruption. They were pretty much  exterminated in the First Crusade.
The lovely faded shutters everywhere in France, which Peter Mayle mentions nostalgically in his book Encore Province, have borne witness to a great deal of bloodshed. It is easy to forget that when presented with present day charm: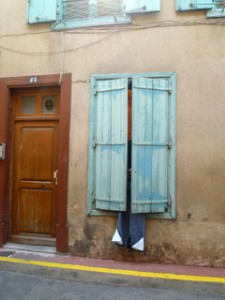 The fortified bishops palace in Albi
Mid-evil rulers also knew about privilege, and protection.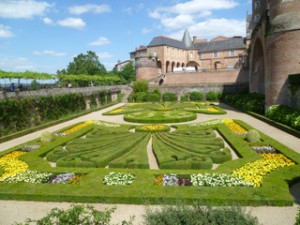 At least they had good taste, as these gardens behind high walls and along the river reveal.  Even today, the public cannot walk down into them. Ironically, part of the palace has been converted to a museum about Henri de Toulouse Lautrec, a crippled syphillitic painter who specialised in the darker side of Parisian nightlife in MontMartre.
France has built on its history to become a prosperous and powerful country. Their model of local marketplace that blends with social interaction is still gracious. Australian urban planning is in the dark ages compared to this:
 What is perhaps the earliest example of planned grids for streets?
They tell me it might be the Bastide de Saint Louis, which is the 'new' medieval part of Carcassonne. The exiled peasants were told to set up on the other side of the Aude River. The streets are so narrow that all of them are one way, but cities like Toulouse have used this feature to ban cars entirely from some streets. The result, a true back to the future and very positive scenario, is a naturally pedestrianised area: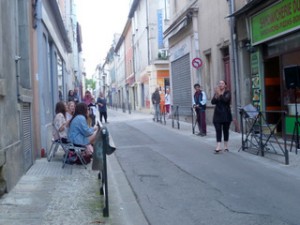 Also good for casual karioke, as we saw during the Night of Music, a national celebration they have every June 21 on the equinox.
Not forgetting all the development of vineyards and wine varieties done by  the monks of long ago, I prepare to leave after a month in Carcassone. Salut to all lovers of good living throughout the ages