Agence France-Presse has just launched a fascinating tool that maps international diplomacy using twitter accounts of the foreign policy elites. As much as it is an accurate measure the ediplomacy hub suggests that Australia's diplomats aren't looking in the right places.
Australia's diplomats appear to be parochial, shunning huge parts of the developing world, and fixated on Julian Assange when the rest are talking about Syria.
The map below shows who we are tweeting to. Note that the only one of the BRIC nations we talk to is India. There is no traffic with the emerging giants of China, Russia or Brazil at all. Nor is there any chatter with Japan, after China our second largest trading partner, or Singapore, our fourth largest.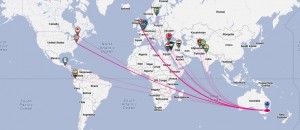 A possible reason for lack of contact with China could be a lack of twitter accounts there. However, a scan of who the US talks to disproves that thesis. The UK also talks to the Chinese. They also find time to talk to the Russians, and the Japanese.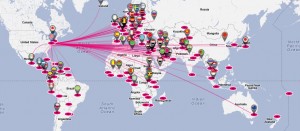 What these maps suggest is a serious lack of engagement with a huge percentage of the world. As representatives of a powerhouse of mining innovation Australian diplomats ought to be in close contact with the countries who are emerging mineral producers and major competitors, but it looks like they aren't.
The site also provides snap shots of what subjects are being talked about by each country. For Australia the top hashtag is #Assange. For the world the top five in order are #syria, #bahrain, #cuba, #egypt and #rioplus20.
It is also interesting that the top e-diplomat in Australia is Kevin Rudd, who is neither foreign minister, nor head of state/government. In the UK top e-diplomat is David Cameron; in the USA it is Barack Obama; in Canada it is Stephen Harper; in New Zealand it is John Key. Can it be that Australia's misdirection starts right at the top?
AFP ranks Julia Gillard at 116 out of 200 of the most influential diplomatic actors, just about novellist Cory Doctorow, and just below Piedad Cordoba Ruiz from Colombia. Kevin Rudd ranks at number 25.
In Australia Bob Brown comes in at third behind Julia Gillard, while Opposition foreign spokesperson Julie Bishop at 9 just beats Bob Carr, the foreign minister, at 10.