As far as I can recall Anna Bligh started running the "white lady" theme last election and I thought it was too obvious to be effective. Just stating that your candidate is virginal or pure doesn't make people accept that she is. But in Queensland there are other overtones apart, from the bridal, that accrue to this way of dressing.
Here is Anna Bligh in white, with the burgundy ALP banner behind her.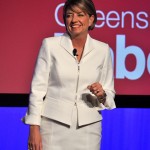 And here is an ad for White Lady Funerals – white and burgundy.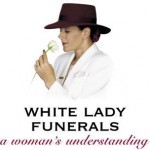 It's not only the colours that are strikingly similar but the tailoring.
I'd say someone in the ALP campaign subliminally absorbed the White Lady uniform and is projecting onto the Queensland electorate – the undertaker's business has been around longer than Bligh has been wearing white.
The two images also share the same underlying theme – "a woman's understanding".
The association, when facing a wipeout election, is unfortunate.