The last few months on the south coast of New South Wales have been peaceful, content, full of activity, and a few fresh challenges. It was good to be far away last year, and wonderful to be back in such a benign part of the world. No desperate boat people arriving from other continents, no obscene accidents of cruise or container ships, no radiation in the food to be concerned about. If Australia is thought by some to be a backwater, that's fine by me. We are far, both physically and probabilistically, from the slaughter now taking place in Syria. And if this particular area is too far from either Sydney or Melbourne to attract swarms of people, that's better yet. While it has been raining here the last few days, there is little risk of flooding just now, unlike up north. Does anyone doubt that the first cab off the rank for climate change impacts is flooding?
It's good when visitors come, so see any changes since the last time. This is itself a delight, to share the experience with friends old and new. For added entertainment we have a new kitten, we call him Julian the Wiki puss. He has to be protected from the snakes and ticks, and we hope he keeps his distance from the kangaroos.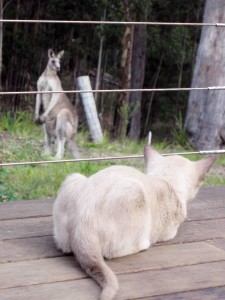 It's not a revelation to me, more of a confirmation, to find the people and the place so comfortable. It probably has to do with a shared love of this environment. Is it normal for people to spontaneously comment in the big cities that it is wonderful to live there? They do here, with a big smile. Some keep horses, and you don't need to be a millionaire to have enough land for that. Others are keen fisherfolk, out early on the beach digging for worms. Surfing is big, for old and young, mostly men. And gardening is not as hard as in Canberra, as the rain is sufficient and it is warm enough to grow a very wide range of fruit and veg. The scale of the area feels right, as it is small enough to get to know people, yet spread out and diverse enough that there are many different people with varied knowledge and skills.
Like an embedded reporter, I still feel like an outsider and observer. Joining a few community groups that are closest to my interests helps me to feel grounded here. One is the sustainable gardening group, where food and friendship develop together. There are useful workshops, and after learning how to braid garlic I threaded in some with Christmas ribbon for presents in Sydney. (Martha Stewart goes bush?) After an excursion to a berry farm I decided our parking area will be marked out with large blueberry bushes. There is a low chill variety that grows to about 2 m, can't wait to get them in. What could be better than overdosing on fresh raspberries? When the ground is prepared, I'll bring some down from Canberra. Just today my visiting friend and I shared a salad from the first veggie patch, something I didn't have last year. While the prospect of developing real food and orchards here remains daunting, I have made my first bed and fully intend to sleep in it.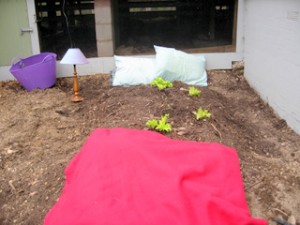 Men with Machines
I have fresh appreciation that gardening without either soil or water is an uphill battle. Then my dominant wrist gave me a clear message that I was doing too much lifting rocks, heavy housework, shifting furniture, digging and ping pong. Time to bring in the men with machines. There are digging and excavating machines, huge steam shovels, ladders, bob cats, slashers, and a cruel looking spiral attachment for making holes large or small. We have had a steady parade of dump trucks, bull dozers, electric drills, all manner of materials and skills to shape this bare spot into something lush and welcoming. But first the creative destruction to chop up the soil, sift out the biggest rocks, bring in the good dirt, and then mix it with trailer loads of horse manure from former tenants (now friends) who live in town. Visualising cement patios front and back is one thing, seeing them in place awaiting a tiler is a treat. This week the new driveway that will lead to the back entry has been started. I call it 'hemorraging money', but can't think of anything better to do with some spare super.  It is now time to consider what plants to line the dirt track with, and where to put a kiwi-covered trellis. It would be nice to reach up and pluck a fat kiwifruit one day, and I intend to invite the humble choco vine somewhere too. I've had a few gardens in various houses, but this is the first time I've developed one from bare ground. I'm after colour, flavour, screening, and believe it will be worth the wait and the effort. My spouse is not so sure, and sees it as a trial. For me it is pleasure, and eventually there will be spaces with elements of arrival or surprise that will soften the harshness of the colourbond.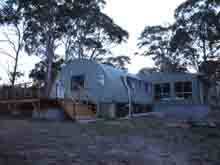 Dirt under the nails
Our current tenant is a skillful gardener, and I help out a bit with the weeding in return for a few beans or excess rocket plants. There is a possibility of using some of our open land cooperatively to work with others and develop and orchard down by the dam. Some friends have gone the whole hog and moved into an eco-village outside Adelaide, but I prefer to be part of the existing community and work to develop the food security and resilience that has to be a good thing. Whether or not climate change hits hard, peak oil has already passed. As oil prices rise, food that is locally and less chemically grown will become more important. Aside from all that, I love growing things, and learning with others how to do it.
The democratic muscle
Another passion of mine is governance, so I've sticky-beaked my way into a group seeking Council reform. Working with people is so much harder than working with plants, but I persevere in the hope that there may be something I can contribute. Perhaps just the insight that if you want good governance, you have to demonstrate that within your group. If you seek greater citizen participation, the group has to show they are open to the community. And so on…words are cheap, action is difficult. But running for Council, I have quickly realised, is a bridge too far for me. My head is still sore from years of banging it on the bureaucratic walls of Canberra. Besides, I want to travel some more, having missed out on that when young. But I am persevering with the idea of granite souvenirs as a fund raiser for the south heads bike path. This commitment was reinforced after meeting a woman whose son was killed by a car while walking that road at night.
We have also joined the SES, and are impressed with the commitment and training this organisation displays. It seems to be one wonderful thing that the NSW government funds, and a proud example of Australian social capital. If we make it through the probation and do a sufficient amount of training, we just might be useful to them even in our 60s. The amount of volunteering that goes on around here also seems quite high, or perhaps it is just more visible than in Canberra. In any case, there is plenty for everyone to take part in. We have found another group to play table tennis with, and I'm continuing to brush up on my Italian through the University of the 3rd age. I hope to find time for some craft and maybe develop one of my little green doll house rooms for fun. This vase is about 7 cm tall: