by Nattavud Pimpa
Ms.Yingluck Shinawatra, the sister of ousted PM Thaksin Shinawatra, has brought various interesting dimensions to the contemporary Thai politics. Apart from being the potential first female Prime Minister (PM) of Thailand (and 16th female PM in the World), Yingluck focuses on her political policies, not the segregation between the yellow-shirt and red-shirt people. A number of Pheu Thai Party's campaigns are populist policies, focusing on the majority of poor rural Thais.  Obviously, her brother, Thaksin Shinawatra, was successful in promoting populist policies such as the war against drugs, 30 Bath health scheme, or One-Tambon-One Product. The majority of poor Thais seem to believe that such populist policies can improve their quality of living, although some economists, social policy analysts and health practitioners warned of their consequences.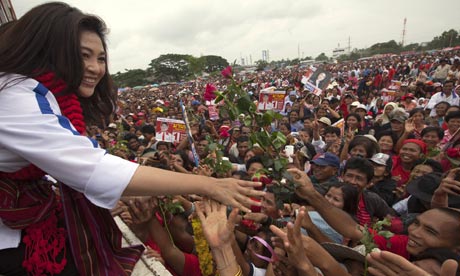 Yingluck is perceived to be the clone of her brother.  As a successful business woman, she has been working in the telecommunication industry under the shadow of her brother. In her current role as the leader of Pheu Thai party, it is commonly known that she is acting on behalf of her brother and one of the key agendas is calling on the amnesty for Thaksin Shinawtra. Meanwhile, Ms Yingluck is running a slick and brilliant campaign. She deserves credit for a conciliatory tone. She promises not to avenge the coup or to rush into pardoning. She also denies issues on bringing home her brother. However, there are doubts about her sincerity, worries about her inexperience and a real fear that her brother may overrule her and rush home after the election. Thaksin's return may probably be disastrous, taking the country back to the segregation among yellow and red shirt camps. Another potential risk is that Pheu Thai's spending promises prove ruinous; though with luck, Yingluck may not realise that Thailand cannot afford her most extravagant promises. Some of her proposed projects and policies are too grand, fuelling doubts over the government's ability to manage and finance them.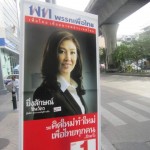 Having said that, a number of Thaksin's supporters tend to transfer their hopes to Yingluck and dream of the prosperous era of Thailand. Like her brother, Yingluck and her party focus on financial return and welfare issues in their campaigns. These policies worked perfectly when her brother was in power and claimed that his interest was on poor Thais who have long felt marginalised in an over-centralised country dominated by a Bangkok elite.
At the time of writing this article, Pheu Thai has pulled ahead in the polls. It means that Yingluck is now one-step closer to become the first female PM in the history of Thailand. However, the big questions that remain unanswered include (a) if she wins, how long would the government last? and (b) How can the government under female leadership survive the military intervention (or even coup d'eta)?  Like most developing nations in the world, political affairs in Thailand have long been ruled and controlled by the army.  Having overthrown her brother in a coup and backed the toppling of elected pro-Thaksin governments through parliamentary and legal manoeuvres, the army may not fully support a Pheu Thai victory. Abhisit Vejjajiwa, the current PM, may take this point to form a coalition government with the small parties such as Bhumjai Thai and Chart Thai Pattana. This may lead Thailand to another conflict among Pheu Thai supporters, the Democrats, the Thai army and the elites who seem to enjoy their influential status in the Thai society.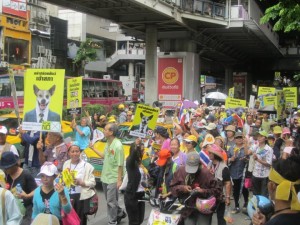 Yingluck appears to be a charismatic and strong leader in the media, although a lot of Thais start to question her ability to control some experienced politicians, and to form the government. She may use her flexibility and strong personality to negotiate with the army, some small parties and even the democrats to reform the political system in Thailand.  Will she emerge as a politician in her own right, or be content to remain merely as a clone for her brother? Only time will tell.
————————————————————————————————————
Nattavud Pimpa is a senior lecturer in international management at RMIT University.