Greetings from Miami Beach, far from the winter of Canberra and its blustering political winds. It was more salubrious (and expensive) than expected.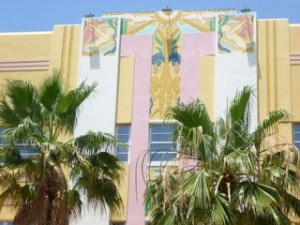 In reality, I am now in Perugia, Italy. Miami seems a long time ago, although it was really just late April. Not so easy to find the time, space and internet access while travelling.
 So I am looking back a bit, and wondering how what we saw in Miami lines up with what one reads about the US economy. Not very well, as it turns out, and this is happy for those who are fortunate enough to live in that sun soaked area.
On the way to New Jersey, where I make a yearly pilgrimage to visit my old mother, we stopped for a few days in Miami. Who wouldn't want to see the site of so many films, TV shows, books (James Grippando thrillers for example), not to mention the famous South Beach diet?
Surprise number one: the strong art deco flavour of the building in Miami Beach.
These were not just in the big hotels, but also an area of low apartments, which we saw courtesy of the local Deco Bikes, a hire service that was only marred by having to dock them every half hour. The area is fairly flat, not too much traffic, and the perfect way to tootle about and see the district.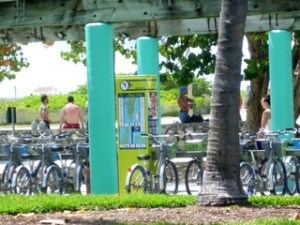 We went into a residential area along the canal, and oggled some of the real estate. The whole place is on a sort of sand bank island, and just about at sea level. Couldn't help but wonder if the local government there is planning for climate change.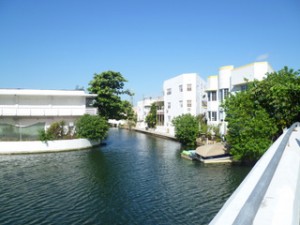 One of my tests of civilisation for a place is the quality and décor of the ladies loos, as it tells much about general social amenity. Miami Beach passed that with bright colours and deco design: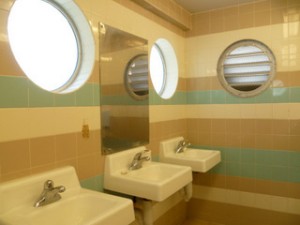 Miami Beach at least seems very civilised, and not much sign of economic trouble either, but of course it is an enclave. People were friendly, relaxed, sometimes tanned to unnatural extremes, and rather into bling. There were so many voluptious women that I began to suspect there just might be a big market for enhancements in this city.
We saw great landscapes by well known Australian photographer Peter Lik, and a gallery with very bling, beautiful yet playful art by a Brazilian named Britto. Now I will recognise his style when I see it, he has done some famous public works.
Three characteristics I've always associated with Jewish people are culture, education, and money. All of this was in evidence in Miami Beach, especially in the new Frank Gehry designed concert hall, where the  local citizens largess and civic attentions have recently transformed a parking lot into a large park, with a wall for projections of the inside events. There we were able to sit on the lawn, chat with the locals (many of whom come down for the winters from the north, the 'snowbirds') and hear Mahler's Sixth Symphony.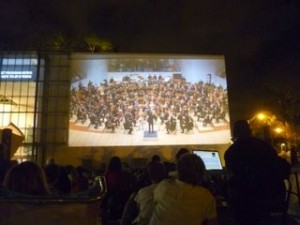 When the bourganvillea in the adjacent park grows up on these frames, it will form a bright canopy and provide shade. We saw less ambitious bouganvillea trained into trees in Mexico: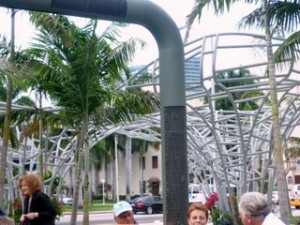 The laid back gentry of Miami Beach seem to spend a lot of time being healthy, and in the morning there was practically a traffic jam on the long broadwalk along the beach, crowded by hearty people of all ages.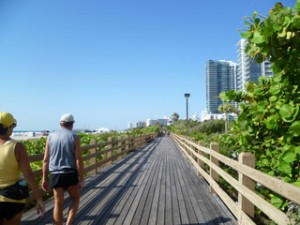 I knew about the large ex-pat Cuban population in Miami, but until my own visit to Cuba I didn't  have a perspective on that. It was still a bit of a surprise to see the anti-Cuban graffiti on the boardwalk, no doubt an indication of the wider sentiment: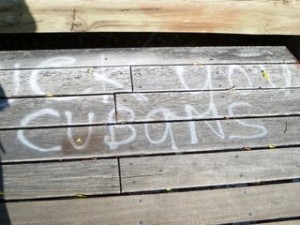 Of course one gets a distorted view by seeing a small rich enclave like South Beach. There were poor people, and some people have low paying jobs, like these guys cleaning out a waterway in the Everglades, where lower than normal rain has left the alligators high and dry: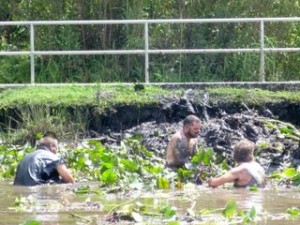 Next stop: New York area.