Has GetUp decided that the budgie smugglers are a net loser for Tony Abbott? How else to explain their fascination with Abbott and the beach. First they were running billboard against his position on global warming by showing him on the beach in a pair of Speedos.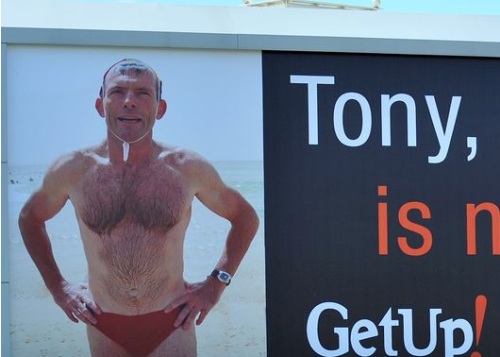 I didn't think this was particularly smart politics. When the incumbent, who you support, is being portrayed as a man who can't make a decision to save his life, and if he makes a decision is completely ineffectual you don't want to show his rival off as a community-minded action man.
I'm not sure about their latest gambit either.
Last night they bid up to win an auction at the Parliamentary Press Gallery Winter Ball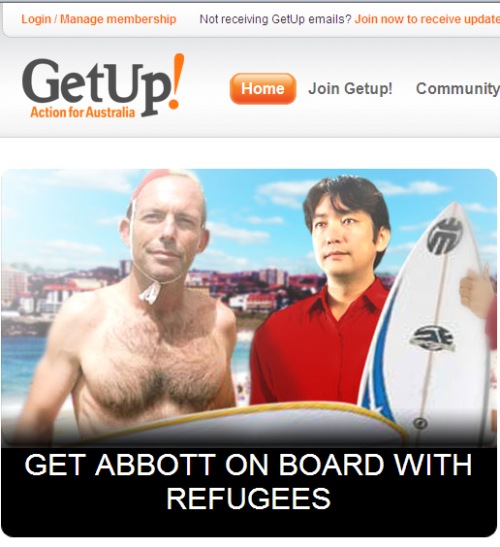 for a surf lesson and breakfast for 6 with Tony Abbott. The prize will be given to a group of refugees who have come to Australia.
They bid $16,000 for the prize, but amazingly actually raised $62,821 towards it. The balance will be transferred to another campaign, not a bad super profit for GetUp.
Now the fun actually starts for GetUp. They are going to put one of the refugees into the surf with Abbott for a surfing lesson. I can tell you from experience that this is a very bonding experience. And I've had a couple of conversations with Tony Abbott, and I know he can be a very engaging fellow. It's going to be very difficult to be too forceful with him once they get out of the surf.
And what sort of footage do they want from the breakfast? If the refugees get too angry, and Abbott keeps his cool, it will confirm the prejudices of the Australians who are concerned about this issue.
And if they are polite and well-mannered? Well that helps take the edge off the "Abbott is a Tory Mark Latham" argument being run by the government. Super profits for GetUp, but possibly divvidends for Abbott. And as they'll be on surfboard he'll get to keep his smugglers snug and out of site.