They say that fish rot from the head, so could the drop in Australia's performance in education be due to the quality of some of the academics holding tenured positions at universities rather than what happens in primary and secondary school?
If credentialled, well-funded and tenured tertiary institution staff are capable of dishing-up research which should fail an undergraduate, what chance have lower echelons.
Which brings me to the case of Professor Stephan Lewandowsky, who has been recently making a career trying to link what he calls "climate denial" with delusion.
His latest project is a study entitled MOTIVATED REJECTION OF SCIENCE and sub-titled "NASA faked the moon landing|Therefore (Climate) Science is a Hoax: An Anatomy of the Motivated Rejection of Science".
It could have been sub-titled "The man who polled his prejudices and mistook them for the facts". Prof Lewandowsky's paper is certainly motivated, but it is not scientific or competent.
I've labelled this Part 1, as there is so much to analyse, and I know I will have to serialise.
I first came across this survey when approached by Jo Nova to have a look at the questionnaire two years ago. The study does not include the questionnaire, but I kept screen shots, and yes, I am one of the quoted sample of n>1200, but as we will soon see, n is actually, for the headline results <10. I've put the links to the screen shots at the bottom of this page.
The first thing to note is that there are 40 questions in the questionnaire, but a number of them are not referenced in the paper. I'm not sure why this is the case. One of them is also not present in the dataset that Professor Lewandowsky provided to me. That question is:
7. The Iraq War in 2003 was launched for reasons other than to remove Weapons of Mass Destruction (WMD) from Iraq
This question was also removed, but this was explained in the paper, effectively on the basis that it should never have been in the questionnaire. Which raises the question as to why it was in the questionnaire.
20. The claim that the climate is changing from emissions due to fossil fuel emissions is a hoax perpetrated by corrupt scientists who wish to spend more taxpayer money on climate "research".
Questions 28 to 32 have also been removed. It was a mystery to me why they were in there in the first place as they ask how I feel about my life. That they play no part in the paper suggests that whatever theory was being investigated using them failed to pan out. If this is the case it is bad practice, and basically dishonest, not to report the failure.
There are two substantial findings in Lewandowsky's paper. One is that people who believe in the free market are likely to reject science for ideological reasons. The second is that people who believe in particular conspiracy theories are even more likely to reject science for ideological reasons.
I'm going to conclude this first post by looking at how large his "n" really is.
For the free market question there were 6 questions that purported to define it (next blog for why "purported"). The other 5 questions were used in the model. The number of respondents who agreed with all 5 was 80. The graph below shows the number of respondents for each question.
On the basis of this, his n, when talking about free markets is somewhere between 80 and 244, depending. This is a long way short of the >1200.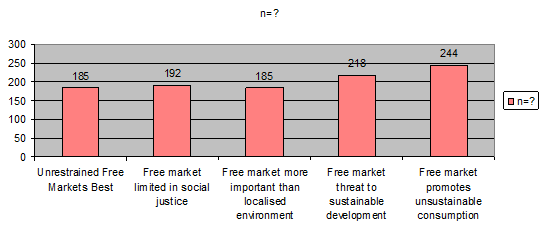 Things get worse when you look at the conspiracy figures. There were only three correspondents (thank goodness) who agreed with all the propositions, and as this graph shows, generally only small numbers agreed with any of the propositions.
The conspiracy which gave its name to the subtitle in fact had only 10 adherents (and only 3 of these thought global warming was a hoax).
So the n in this case is somewhere between 3 and 289. Again, a long way short of >1200.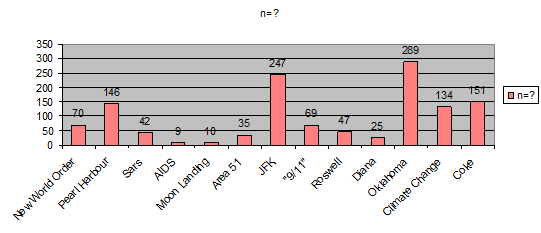 Questionnaire images: